Sponsored by Pet Palace Hotels


Week of May 25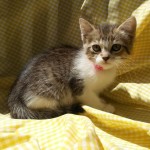 Tina is a beautiful 9-week old gray/white tabby female.  She is housetrained, up to date with shots, good with kids, and good with dogs and other cats.  Tina is only one of numerous precious kittens that we have at the shelter who are looking for loving homes.  Come meet them!
Dogs and puppies may be adopted for a fee of $120.  Cats and kittens may be adopted for $50.  If you adopt one kitten, you can adopt his or her buddy for only $25.  Adoption fees may vary due to availability and higher fees may apply for purebreds.  The shelter is located at 1009 Reuben Rd. in Prattville and is open Monday through Saturday from 11 am until 4 pm.
For more information, please call 358-2882, visit the website at prattvilleautaugahumane.org, email us at autaugahumane@yahoo.com. or find us on Facebook at Prattville/Autauga Humane Society and click on the blue/white paw print tab labeled "adoptable pets".